From 2014 – 2021, the U.S. mergers & acquisitions (M&A) market experienced a tremendous amount of activity relative to the years immediately following the Great Recession (2009 – 2013). In 2022, the M&A market experienced a pullback relative to 2021's performance, however, by historical standards, M&A activity held strong and remained on solid footing. Over the past 12 months, the global economy has experienced new challenges, which included supply chain bottlenecks, torrid inflation, rising interest rates and the looming threat of a recession. While Bundy Group's clients continued to perform in 2022, they are very aware of these headwinds, and our team is frequently on the receiving end of questions from owners and executives regarding the future for the economy and M&A markets.
To further the point, key questions that our team receives include:
If there is a recession in 2023, then what will the impact be on my industry and company?
What does the next year look like for the mergers & acquisitions and capital placement markets and the corresponding value of my business?
North American Mergers & Acquisitions Activity

These questions are relevant, and we wanted to provide some thoughts as we progress in 2023:
A recession could happen…but not all companies will be significantly affected.
No one knows for certain if a recession will happen in 2023. We often advise clients to plan for the worst and hope for the best, therefore, we are recommending companies to prepare for a recession in 2023. During down periods, the market fleshes out which services and solutions are of greatest importance to businesses and consumers. Industries and companies that provide "must have" offerings, such as healthcare, automation, energy and mission critical industrial services, are expected to maintain quality momentum over the next 12 months. Companies that reside in the discretionary offerings category, or that are embedded in more cyclical industries, could be more negatively impacted during a recession.
Global M&A Activity ($ Transaction Value): % Breakdown by Sector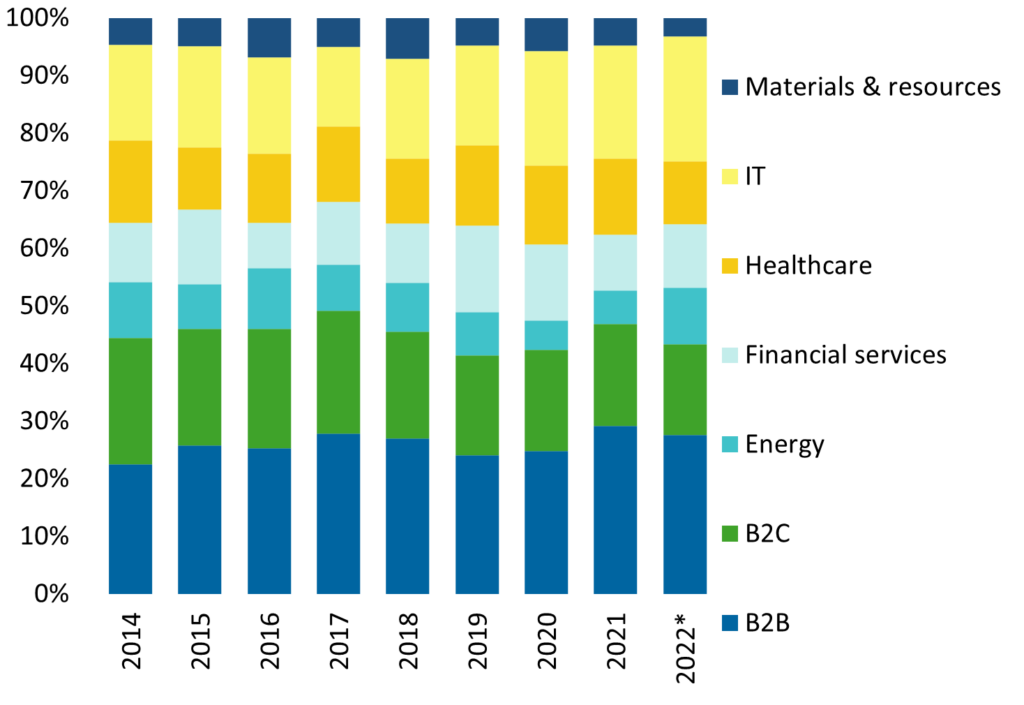 Buyers and investors will more thoroughly evaluate acquisitions…and hunt for value acquisitions.
Even in strong economies, buyers are focused on finding quality companies to buy at lower valuations. A recessionary environment gives strategic buyers and financial sponsors (i.e. private equity, family office, institutional investment funds) a more powerful excuse to extend their due diligence, create doubt about the selling company and ultimately try to acquire the business at a lower valuation. For those organizations that are seeking to sell or raise capital in 2023, the owners and executives should focus even further on developing and maintaining an optimal position of strength to protect and drive value.
Platform investments will still be coveted…but 2023 will be the year of the add-on acquisition.
Financial sponsors will continue to seek platform investments to build, however, a recession environment could slow down the pace of these larger transactions. Add-on acquisitions for existing platform investments will accelerate further in 2023, which will be due to several key reasons:
The platform company can realize synergies by acquiring complimentary add-on firms.
On average, add-on acquisitions require a relatively lower capital outlay than a platform acquisition, which results in a lower risk transaction for the buyer.
There continues to be a wide range of industries that are highly fragmented, resulting in a fertile environment for completing add-on acquisitions.
Association for Corporate Growth 2022 Multiples Survey:
Which deals do you expect to see more of in 2023, compared with 2022?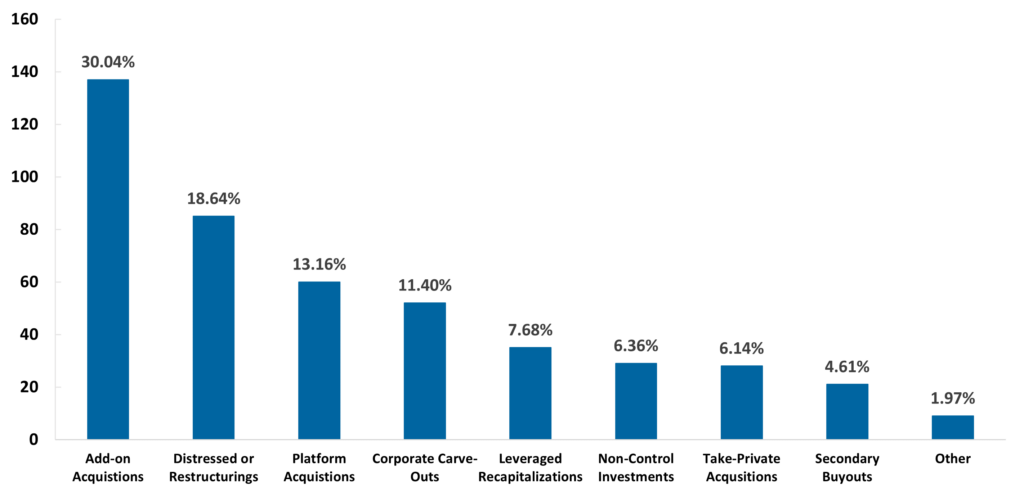 Business valuations…which direction in 2023?
A potential recessionary environment, coupled with higher costs of capital (i.e. driven by higher interest rates), can negatively impact valuations. However, a company can retain value through such avenues as:
Operating in a non-cyclical industry
Providing critical offerings and solutions
Managing by such fundamentals as stability, profitability, and growth
Utilizing the power of buyer and investor competition to maximize value
Abundance of capital
There continues to be an enormous pool of capital in the market available to invest in the private markets. To be specific, there is approximately $3.3 trillion in cumulative global overhang, or capital committed by investors for private company investments that has not yet been invested. (1) The financial sponsors managing this pool of capital would much prefer to put these funds to work instead of giving them back to investors. In addition, debt capital providers are numerous, but 2023 will see lenders be selective in deals they pursue and will likely require higher equity contributions by strategic and financial sponsor buyers for transactions.
Targeted sale or capital raise processes
In 2023, it will be even more critical for a seller or firm raising capital to select the right parties for conversations. Instead of running a broad competitive process, which involves talking to a large number of parties, it could be more advantageous to start with a highly targeted group of strategic buyers and financial sponsors. This contingent should have a deep understanding of the seller's industry, a track record of closing transactions in the segment, be well capitalized and demonstrate an aggressive acquisition / investment focus for 2023.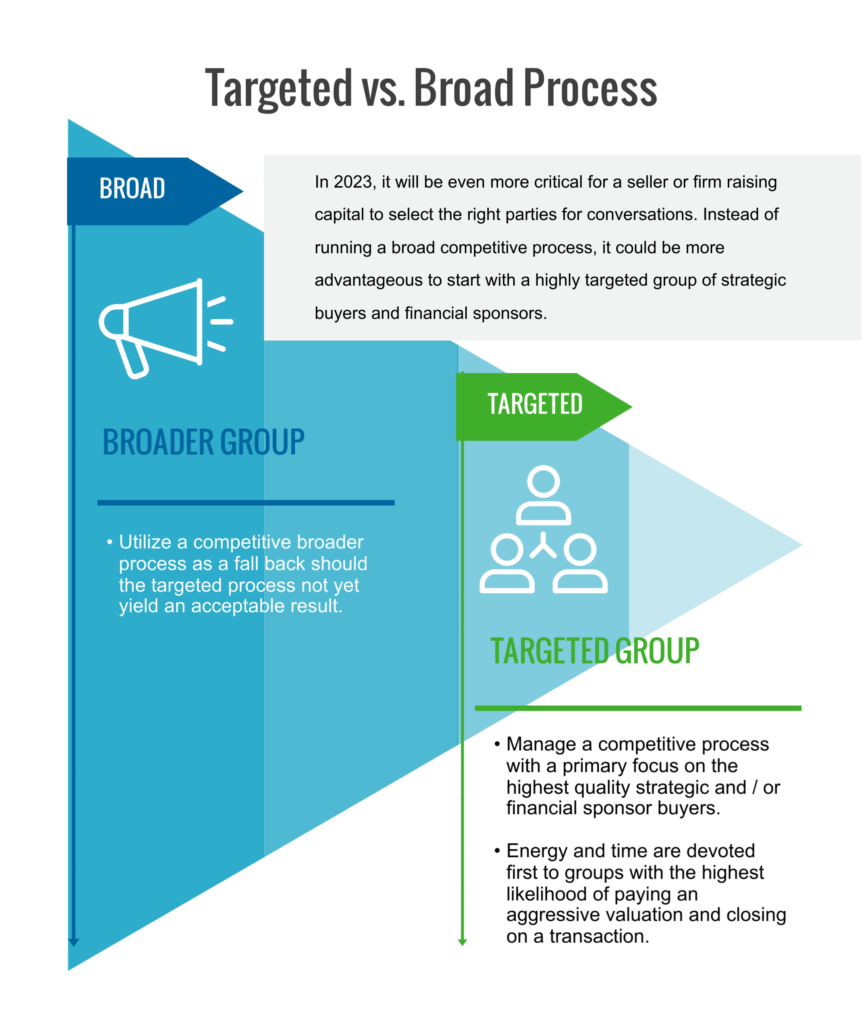 Options available for sale
Companies may not be interested in a full or majority equity liquidity event today, but the owners may require capital for such goals as funding growth, partner buyout, refinancing debt, or paying the owners a dividend. In addition, these organizations may desire a capital provider that can offer additional resources, such as strategic and administrative support and board-level advice.
Senior debt: Utilizing commercial bank debt or debt from private lenders at commercial banking-like terms.
Debt & minority equity: Using a combination of senior and / or junior debt, in coordination with selling minority equity or offering equity warrants. Over the past decade, the market has seen the evolution of these groups, offering a wider range of flexible capital options for companies.
Minority equity: Companies that want to avoid leverage and don't want to give up equity control can pursue a sale of minority equity to capital groups that provide this solution.
As 2023 quickly moves through its first quarter, it is certain to be an interesting and dynamic year. The macroeconomic environment could create a wider gulf between companies in terms of business performance, value retention, and ability to sell or raise capital. As investment banking advisors, the Bundy Group team sees numerous opportunities and options for companies, but we advise owners and executives to stay attuned to market trends and to look for opportunities to maintain and grow in the face of possible economic headwinds.
Bundy Group Securities, LLC, is a registered broker-dealer and member of FINRA and SIPC. Check the background of Bundy Group Securities, LLC at FINRA's BrokerCheck. This content is for informational purposes only and is not intended as investment advice or a recommendation to buy or sell any security.
Sources:
(1) Wiek, Hilary. "Global Private Market Fundraising Report." Pitchbook. November 30, 2022.