The pandemic brought unprecedented change to businesses and industries across the globe and the Fire, Security & Safety industry was no exception. Players in this industry experienced constraints, obstacles, rebounds, and renewed growth. As the segment has evolved over the last several years, including during the pandemic, it continues to garner the attention of strategic buyers and financial sponsors that are either active in this market today or want to be.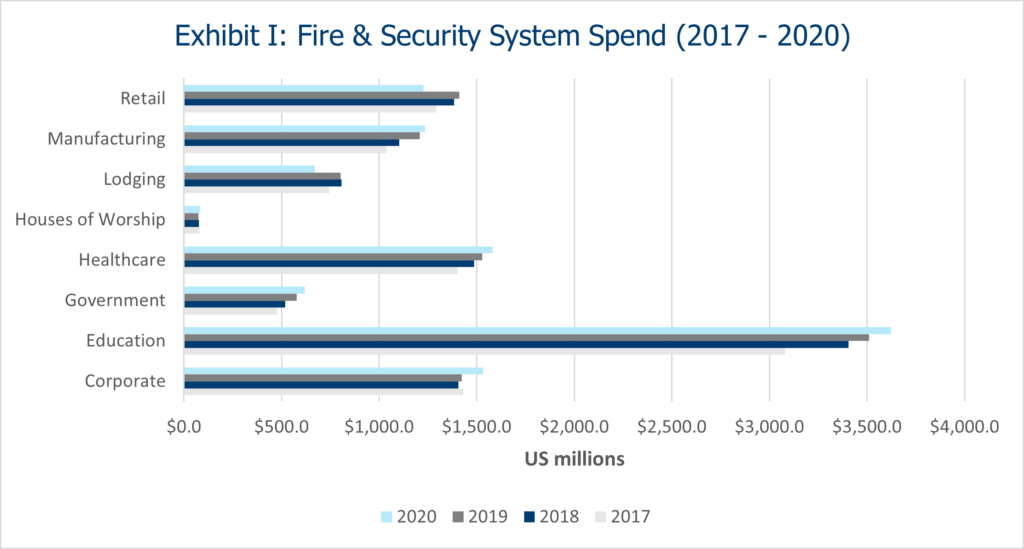 "2020 NSCA Electronics Systems Outlook: Winter Edition." NSCA.
The Fire, Security & Safety Industry: A Macro Perspective
In 2020, restrictions and mandates resulted in limited access to facilities, including healthcare, government, and commercial buildings. The inability to enter client sites impacted the ability of industry players to complete inspections and installations.
Fortunately, as restrictions have eased, companies are resuming a largely normal schedule. As a result, there is now a strong and prompt rebound with testing, inspections, installation and service work. This resurgence in activity, which has been partially driven by spring and summer 2020 work shifting to the latter part of 2020 and into 2021, has resulted in increased revenue for companies starting in Q3 2020 and continuing through today.
While the pandemic may have caused an operational impact on some Fire, Security & Safety organizations, what was not challenged was the continued pace of consolidation. The last five years have realized a wave of financial sponsor investment activity and strategic buyer acquisitions, and the momentum continued throughout 2020. The pandemic tested and proved the resilience of the Fire, Security & Safety market, which further fueled mergers and acquisitions activity in the space.
Surviving and Exiting the Pandemic Storm
A review of the Fire, Security & Safety Mergers and Acquisitions (M&A) market for the past 18 months provides a more comprehensive picture of the market today and the future.
Spring 2020 became a moment of reflection for buyers as the impact of state shutdowns had to be evaluated and considered. A Fire, Security & Safety acquisition candidate not only had to be assessed based on the ongoing impact of restrictions, but its financial performance during the pandemic also had to be reviewed through this same lens. Correctly valuing a company, and even closing on a transaction, became more challenging for buyers as the volatility of financials introduced additional complexity to transactions.
By Fall 2020, buyer confidence rose substantially as the monthly performance of many acquisition targets gravitated back to pre-pandemic norms. This acceleration was related to acquisition candidates demonstrating how they were able to navigate the restrictions and regain access to client facilities. An increase in inspections, which are vital to clients and their operating standards, built confidence throughout the industry. In addition, companies were able to work through a pre-existing backlog for new installations, which had also been delayed as a result of the pandemic.
By the beginning of 2021, many companies in the Fire, Security & Safety market had fully adjusted to the "new normal" and were succeeding, which the buyers recognized. A transaction example is Bundy Group's recent representation of a Southeastern-based, full-service fire protection company, which was acquired by a financial sponsor-backed strategic buyer. The company experienced an operational and financial impact in the spring of 2020, but it was back to full performance by Q4 2020. The company attracted strong interest from the market, and Bundy Group was able to obtain a 30% transaction value premium for the seller relative to an offer previously submitted.
An Industry Built on Value
The value drivers and core fundamentals of the Fire, Security & Safety industry allowed companies to persevere and ultimately succeed during the pandemic.
Recurring Revenue – Clients are constantly in need of fire and security system inspections, testing, service, upgrades and new installations.  These needs effectively embed a Fire, Security & Safety organization into a client for years and provide the firm with a consistent stream of revenue.  Buyers place a premium on recurring revenue!
Mission Critical Offerings – The systems that providers are installing and managing are required by authorities and regulators for facilities to remain open and updated.
New Opportunities – Most Fire, Security & Safety organizations service facility-heavy industries, and increasing federal, state and local industry regulations will force these clients to accelerate their adoption of these vital systems.
Fragmented Market – The enormous pool of industry participants in the Fire, Security & Safety market provides financial sponsors and strategic buyers the foundation to grow by acquisition. Acquiring additional revenue and realizing synergies by executing on a roll-up strategy allow buyers to rapidly build an organization of scale and realize an attractive exit.  The fragmented market, and the resulting buyer and investor pull that is created, further bolsters the value of independent companies in the Fire, Security & Safety market. 
Consolidation Activity: Continued Momentum Through the Pandemic
The aggressive pace of consolidation can be referenced by numerous case studies. For example, Summit Companies, owned by CI Capital, has completed 41 acquisitions since 2017. Another prime example is Pye-Barker, owned by Leonard Green, which now has over 80 locations and already closed nine acquisitions in 2021.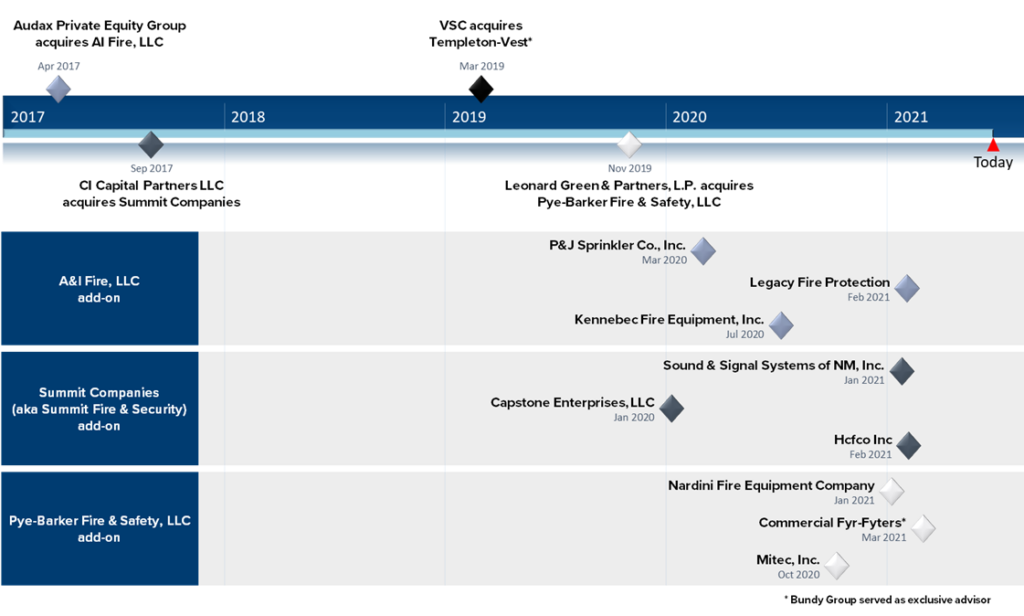 Mergermarket. "Fire Safety A Hot-Bed Of M&A Activity." Forbes, 8 Mar. 2021.
Looking Ahead to 2022 and Beyond
The renewed strength of the Fire, Security & Safety industry is expected to continue as companies execute on client service and find new means for growth.
We are in a historically low tax rate environment, but this is expected to change as the Biden administration and Congress continue to signal a desire to raise personal and business taxes. If changes are made, it is possible, and likely probable, that most business owners will owe additional taxes in a sale event. The following scenario demonstrates how a capital gains tax rate increase from 20.0% to 39.6% could lead to a nearly 25.0% decrease in walking away money to a business owner.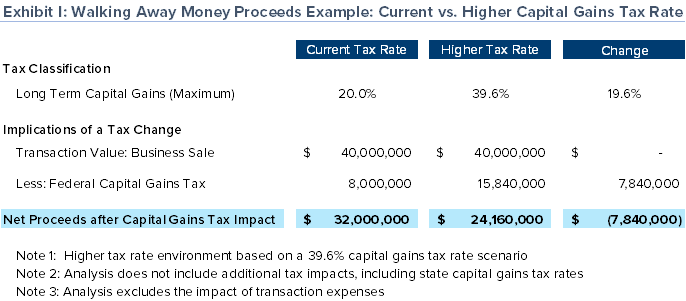 In addition to transaction tax concerns, owners have made note of the continual and increasing calls they are receiving from strategic buyers and financial sponsors. Regardless of geography and size, owners in the Fire, Security & Safety market have multiple buyer options to consider, whether they know it or not. Based on Bundy Group's experience in the sector and numerous buyer relationships, we believe this much buyer demand should create a fertile environment for the foreseeable future for owners interested in a liquidity event. If owners are able to use information, competition, and seasoned advisors to their advantage, then achieving a successful and lucrative wealth creation event through a partial or full sale is possible.
Conclusion
While 2020 brought temporary upheaval to operations for Fire, Security & Safety companies, industry players were able to adapt successfully and were largely back to pre-pandemic performance levels by the end of 2020. This resilience has been recognized by the M&A market, and, as a result, buyers have additional confidence in paying attractive valuations for investments and acquisitions in the Fire, Security & Safety market. Most companies considering a sale or recapitalization will have numerous options and be in a great position to demand value – especially with the use of competitive pressure on buyers in a sale process.
About Us
Bundy Group is an industry-focused investment bank that specializes in representing business owners and management teams in business sales, acquisitions, and capital raises. The 32-year-old firm has closed more than 250 transactions, specializing in several industries, including Fire, Security & Safety; Controls & Automation; Healthcare and Life sciences; Technology; Energy and Power; and Infrastructure. For more information about our industry expertise and other recent transactions, visit https://bundygroup.com/industry-expertise/. Securities offered through Bundy Group Securities, LLC, a registered broker-dealer and member of FINRA. Check the background of Bundy Group Securities, LLC at FINRA's BrokerCheck.