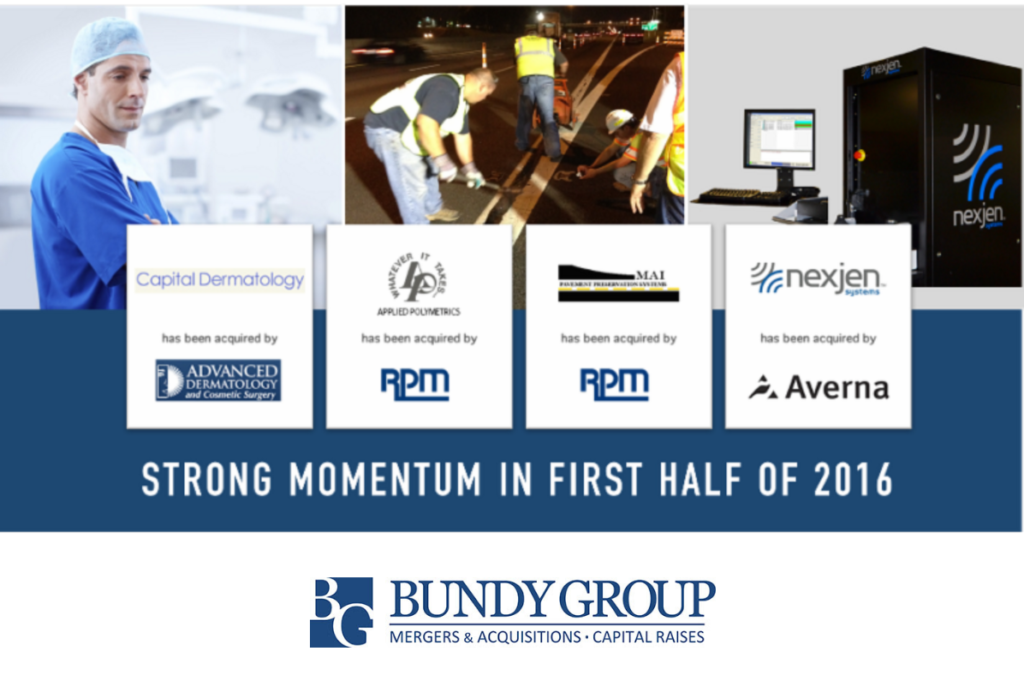 The Bundy Group team wanted to take the opportunity to update you on our 2016 activities. We achieved a strong first half of 2016, which was driven by several successful client transactions. This includes representing Marketing Associates, a building and infrastructure products manufacturing firm, in a sale to England-based USL, a division of publicly traded RPM. See a link to a case study description of the deal. Bundy Group also closed on the sale of Capital Dermatology, a Washington D.C. area Dermatology clinic. Finally, Bundy Group advised Jenkins Electric in its sale of the NexJen division, a full-service system integrator with leading expertise in mechanical test systems, RF automated test equipment, industrial control, and automation control panels.
Bundy Group's pipeline continues to be strong, which is due, in no small part, to our industry relationships, networking and referral partners. A sample of current client engagements include:
Representing a railcar maintenance services company, with locations across the U.S., in a sale
Representing a digital media firm in a capital raise and acquisition
Representing a nationally-focused engineering company in the recapitalization of a Software as a Services division
Representing a legal staffing and document review services firm in a sale
We want to thank our clients and friends for their partnership with Bundy Group. We appreciate your keeping our team in mind for future introductions on business sale, capital raise and acquisition situations. The Bundy Group team will keep you updated on our future successes.

Industry Activity & Expertise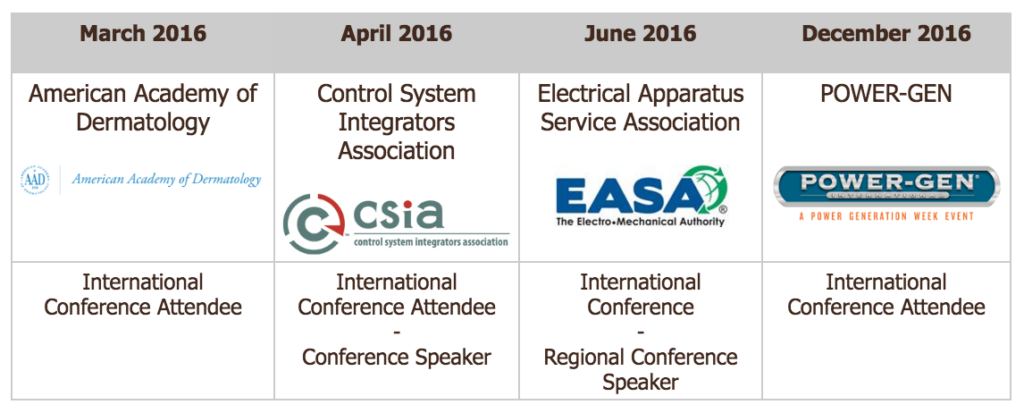 Exit Planning Education Seminar for Dermatology Practice Owners
Bill and Clint Bundy, partnered with two other operational and legal consultants, will provide a full day educational seminar for the benefit of Dermatology practice owners. The seminar will address a variety of topics related to building and realizing value in a Dermatology practice. The event will be held in Chicago, IL on Friday, November 4. Register here for The Bundy Group Education Presentation to Dermatologists.

Mergers & Acquisitions for Business Owners: Building, Preparing & Realizing Value
Whether an owner will eventually sell his or her company, or give it to children or management, it is advantageous for an owner to take steps to improve company value. The stronger the fundamentals of a company, then the more options an owner will have going forward.
The following are suggested ways that a business owner can improve value:
Talent - To bolster the services of a firm, owners should focus on hiring and retaining quality senior management and high-skilled talent. The company's "talent bench" should be deeper than just the owner.
Client Markets - The client industries that a company focuses on are a significant driver of a firm's value. Even with the best strategic plan and execution, a business can face restrictions should it service industries that are stagnant or in decline. Current examples of attractive, higher-growth markets include: chemicals / petrochemicals, power / utilities, packaging / materials handling, and food and beverage.
Diversification - In addition to addressing attractive client markets, it is important for a business to service a significant number of clients. A business should aim for a client generating no more than 20% of total company revenues for a given year. The "less eggs in one basket" for a company, then the more value that a company can demand.
Recurring Revenue - Buyers and financial investors place a heavy premium on long-term contracts, tenured client relationships and multi-year projects that demonstrate sustainable, recurring revenue.
Other areas that a company can improve include financial reporting and strengthening its sales / marketing team. It is the goal of most businesses to plan and work towards maximizing their fullest potential and value. When that happens, the buyer's market certainly recognizes and rewards those business owners who have solidified the fundamentals of success.