In this article for Modern Aesthetics, Bundy Group shares a survey of some of the most seasoned buyers and experts in the industry and gathers their sentiments on the industry, mergers and acquisitions (M&A) activity, and the state of the economy today.
As we progress in 2023, the aesthetics industry is managing a number of different dynamics, including macroeconomic headwinds that have evolved over the past 18 months. We continue to get questions from independent practice owners about these conditions, the strength of the aesthetics M&A market, and practice valuations. From our current pipeline of clients that are selling their practices, we have observed the following trends:
Increasing patient counts as we fully exit the COVID-19 era
Robust financial performance for well-managed practices
Challenges in finding talent and rising labor costs
Continued consolidation and investment activity in the aesthetics sector
Acceleration of M&A activity in the aesthetics industry
To further understand what is happening in the aesthetics market, Bundy Group obtained insights from five industry experts.
The experts interviewed include:
Alex Chausovsky – A Market Research and Data Analytics Specialist
Michael Byrd – Partner, ByrdAdatto (Business & Healthcare Law firm)
Brad Adatto – Partner, ByrdAdatto (Business & Healthcare Law firm)
Craig Neville – Head of Business Development, MedSpa Partners
Sean Walsh – Vice President of Partnerships, Cosmetic Physician Partners
THE ECONOMY AND THE AESTHETICS MARKET TODAY (AN ADVISOR'S PERSPECTIVE)
Clint Bundy: The macroeconomic market has experienced shifting dynamics over the past year, which includes inflation, rising interest rates and the threat of recession. What is the prognosis for the rest of the year?
Alex Chausovsky: The US economy is firmly on the back side of the business cycle and a mild recession is likely on the horizon because of aggressive interest rate policy decisions by the Fed. But not all is doom and gloom. Inflationary pressure is easing, and consumers remain willing and able to spend money due to a remarkably resilient job market. This should help any recession be mild and relatively short-lived.
The unemployment rate rose to 3.7% last month, which is actually a good thing. It means more people are coming back into the labor market and looking for work. The number of job openings is currently above 10 million, suggesting employers remain committed to growth despite fears of a recession.
CB: Why do you think the aesthetics industry has become more attractive over the past few years? Do you anticipate the consolidation and investment activity to accelerate in the next few years, and, if so, why or why not?
Brad Adatto: The driver to the aesthetics boom, at its roots, is that aesthetics is an efficient health care delivery system. We noticed a boom in elective medicine after health care reform in 2009, as reimbursements for health insurance related care were on a downward spiral. This forced physicians and other health care providers to adapt. At the same time, the concept of people investing in how they look started emerging, and the patients were happy to share their results on social media. The aesthetic retail meets health care market exploded and, of course, this attracted investment activity and consolidation. Even with the rapidly increasing volume of acquisition transactions we are handling at ByrdAdatto in aesthetics, we believe consolidation is in the infancy stage.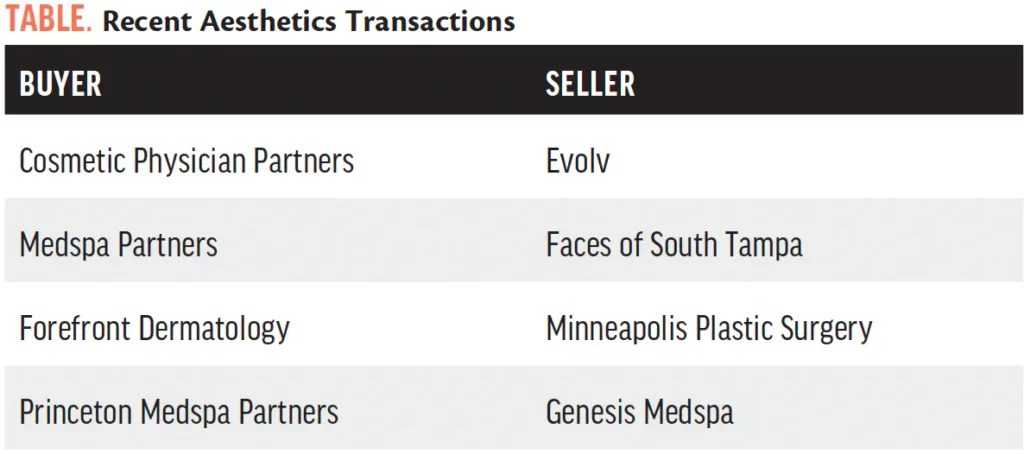 THE AESTHETICS M&A MARKET TODAY (A BUYER'S PERSPECTIVE)
CB: Strategic buyers and financial sponsors (i.e. investment groups) have had an evolving view of the aesthetics market over the past ten years, including during and after the pandemic. That is translating to increased M&A and investment activity. Why do you think the aesthetics industry has become more attractive over the past few years? Do you anticipate the consolidation and investment activity to accelerate in the next few years, and, if so, why or why not?
Sean Walsh: Improving technology and growing overall awareness has provided the industry with strong tailwinds, and growth is forecasted to continue. The expected result is more and more investment and M&A activity in the aesthetic space. As for consolidation, in Canada the aesthetic space is already largely consolidated, we think this is a forecast for what to expect in the U.S. Barring any major changes, we anticipate consolidation will continue and even accelerate in the next few years.
Craig Neville: There certainly has been a lot of investment interest in the industry, and that interest is continuing to grow for several reasons:
Strong underlying growth – acceptance of aesthetics across various age groups as part of overall health and wellness routines. In addition, the advent of new treatments, new technologies and ever improving outcomes serve as tailwinds for the foreseeable future.
Private Pay - Medical Aesthetics is true retail healthcare as almost the entire business is private pay compared to traditional healthcare plays that have an insurance reimbursement model.
Economic resilience – through the pandemic and even into some of the recent economic headwinds, patients have continued to seek treatment. Investors are attracted to industries like aesthetics that are more resilient in economic downturns.
We believe that M&A consolidation and investment will continue to accelerate over the next couple of years. The industry is continuing to evolve and becoming more complex. The important reminder for every practice is to ensure that they are finding a partner that is right for their goals, there is lots of capital available for practices, but the question should be asked: what are you getting in addition to that capital? Does the partner have the support they are promising? Do they have a track record? Do they have similar partners to you who have had a positive experience?
AESTHETICS TRANSACTIONS: DYNAMICS, VALUATIONS AND STRUCTURE
CB: Please explain challenges and dynamics you face in completing an aesthetics acquisition that you might not find with a dermatology acquisition/transaction. How do you view valuation and structuring for aesthetics acquisitions?
Sean Walsh: Many practices in the MedSpa space are not run day to day by an MD, which may pose issues when ensuring that the clinic is respecting all state regulations. When joining a larger group, it's critical that the practice be buttoned up legally and could cause issues if is not.
Structurally, the biggest difference between CPP and most investors in the aesthetic space is we are a partnership. For our partners, this means a material ownership stake in CPP and a longer hold period before subsequent liquidity events. On a longer time horizon however, we have provided our partners with greater returns than other considered alternatives. When CPP evaluates a practice, it looks at over a dozen considerations ranging from size to number of locations number and providers to geographic location.
Craig Neville: Any business acquisition is a complex and emotional journey for the owner who is selling. This is true regardless of medical specialty. A major part of any deal that we do is working with our prospective partners to help them understand what their life will look like after closing and to align on expectations. For MSP, it's choosing the right partners and being able to nurture the relationship with our partners not only after the closing, but before closing to foster collaboration and harmony going forward.
Valuations are attractive right now, but every deal is different so it is important for sellers to understand the differences. Most deals will comprise of both a cash and equity component. The cash is straightforward to compare, but the equity can be more complicated. Understanding the actual value of the equity and more importantly, the security that the company is going to be healthy so you can realize the value on the equity. Also, terms are important and you should be asking a lot of questions – are you getting the same equity terms as previous sellers? Does the financial group have preferred returns? Has there already been a liquidity event for the shareholders? All of these questions help you to better understand the potential upside and value you are receiving.
Michael Byrd: As an attorney and advisor active in the space, I will first start by acknowledging that medical spa, plastic surgery, and dermatology acquisitions are more similar to each other than not. The biggest difference buyers may face with plastic surgery is that larger elective cases and reconstructive cases are often performed at ambulatory surgery centers and hospital settings. This affects the dynamics of the operations of the practice and the cash flow. Most dermatology surgical procedures (and smaller plastic surgery cases) are conducted in an in-office surgical suites. The valuations are higher for the medical spa practices than the surgical practices. We will often see a mixed practice acquisition have a separate lower valuation for the surgical side of the practice than the valuation for the medical spa side of the practice.